03/14/2014
TORONTO, ON–(Marketwired – March 14, 2014) – Baylin Technologies Inc. (TSX: BYL), a global provider of innovative antenna solutions for the mobile, broadband and wireless infrastructure markets, today announced its financial results for the three and 12 months endedDecember 31, 2013. All figures are stated in United States dollars unless otherwise noted.
Fiscal Year 2013 Highlights
Revenue increased by 16.5% to $80.1 million from $68.7 million in 2012.
Antennas shipped increased by 16.3% to 200 million units from 172 million units in 2012.
Gross profit increased by 10.0% to $25.2 million from $22.9 million in 2012.
Adjusted ourhealthissues.com EBITDA from continuing operations increased by 25.5% to $10.8 million from $8.6 million in 2012.
The Company completed its initial public offering ("IPO") in November 2013, raising gross proceeds of $47 million.
Total cash and cash equivalents were $45.1 million at December 31, 2013, compared to $7.0 million at December 31, 2012, with the increase principally the result of proceeds from the Company's IPO.
"It was a successful year overall for Baylin, highlighted by solid year-over-year revenue and Adjusted EBITDA growth and the completion of our IPO in November," said Ephraim Ulmer , President and Chief Executive Officer, Baylin. "We now have a strong balance sheet and the resources to expand our customer base and diversify our revenue. The underlying trends in our markets — specifically the rapid growth in mobile data traffic and devices — are driving demand for sophisticated, highly engineered antenna systems. While near-term sales will be affected by lower allocations on a key product platform, with our 35-year track record of innovation we are well positioned to capitalize on market growth over the long term. In addition to our expansion in Vietnam, we are focused on leveraging our investment in LTE antenna solutions to win new mobile OEM customers. Based on the strong early results in wireless infrastructure, we are also investing to expand this segment of our business."
Selected Financial Information
(In thousands of United States dollars except per share amounts)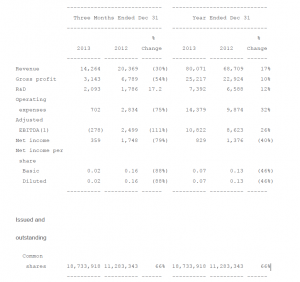 The Company's complete financial statements and Management's Discussion & Analysis for 2013 are available at www.baylintech.com/investor-relations/ and www.sedar.com/.