Investor Conference Call on November 2, 2017 at 8:00 a.m. EDT.
Revenue in the third quarter of 2017 was $27.1 million (CAD); a 21% increase from the prior year period.

Gross profit was at the highest level in the past 15 quarters.

Q3 2017 operating expenses were lower than the prior year period due primarily to the closure of our operation in Tiberias, Israel in the 2nd

Current quarter EBITDA was $2.7 million (CAD) (9.8% of revenue); Adjusted EBITDA was $3.1 million (CAD) which was the 7th consecutive positive quarter.
Toronto, CANADA, November 1, 2017 – Baylin Technologies Inc. (TSX: BYL) (the "Company" or "Baylin"), a global provider of innovative antenna solutions for the networking, mobile and small cell/DAS/BSA markets, today announced its financial results for the three and nine months ended September 30, 2017. All figures are stated in Canadian dollars ("CAD") unless otherwise noted.
Key highlights for the three months ended September 30, 2017:
Revenue, at $27.1 million (CAD), increased by 21% over the prior year's comparable quarter due primarily to a successful product launch of a major Asia Pacific customer combined with the launch of a small cell antenna product roll out that we previously reported had been expected to launch in Q2 but was delayed.
Gross profit was $8.4 million (CAD), and gross margin (See Non-GAAP Measures on page 2 of the MD&A) was 31%. Gross margin was higher than the first quarter of the year as a result of a better product mix and production optimization efforts but slightly lower than the second quarter due to higher Asia Pacific sales of products with a lower gross margin, combined with a longer period of time to optimize manufacturing efficiencies relating to the Asia Pacific product launch.
Positive Adjusted EBITDA (See Non-GAAP Measures on page 2 of the MD&A) was $3.1 million (CAD), making it the seventh consecutive positive quarter. Certain non-recurring and one-time expenses ("non-recurring items") were incurred in Q3 fiscal 2017 amounting to $0.4 million (CAD) which were comprised primarily of a restructure provision relating to the closure of the Israeli operations as well as a legal settlement relating to a termination.
As reported previously, the company decided to close down R&D efforts in Israel and relocate all design and engineering activities to its new Ottawa, Canada location. The transfer of assets from the Israel R&D facility to Ottawa, Canada was completed in Q3.
The Ottawa R&D centre provides improved access to our North American customer base, potential access to the Canadian SR&ED program, and access to a significant talent pool to keep up with growing demands.
The Base Station and Small Cell sales team expanded through the recent hire of four new sales people with antenna industry experience in this market.
Randy Dewey, President and Chief Executive Officer commented, "As we reported in Q2, we expected to see upward momentum in sales in the second half of fiscal 2017 and Q3 certainly proved that out. While Q4 is typically not as strong as Q3, we expect our positive momentum to continue."
Mr. Dewey added: "We are focused on continuing to grow revenue while ensuring solid profitability".
Selected Financial Information
(In thousands of Canadian dollars except per share amounts)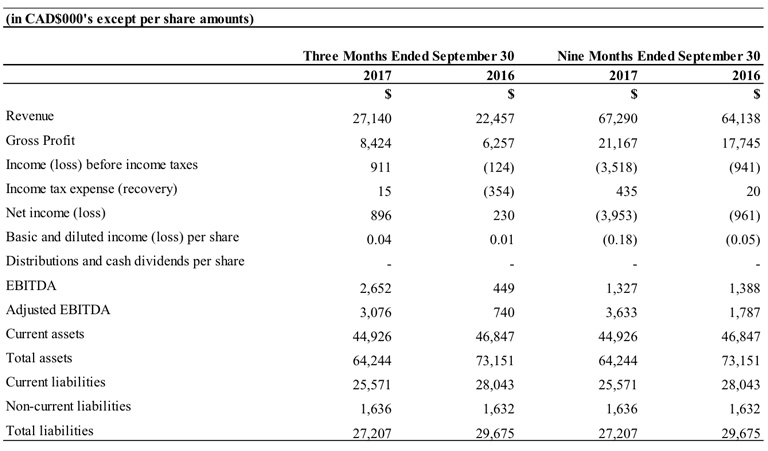 The Company's complete unaudited consolidated interim financial statements and Management's Discussion & Analysis ("MD&A") for the three and nine months ended September 30, 2017 are available at baylintech.com/investor-relations/ and www.sedar.com/.
OUTLOOK
In Q2 we reported that we experienced a significant delay with a large, multi-year order of our small cell antenna product line. Although the delay will have an impact on timing of revenue for this year of approximately $6.5 million (CAD), we generated revenue of approximately $1.6 million (CAD) from this product line in Q3 and expect an increase in revenue in Q4 and a more significant impact in 2018.
The impact of our cost reductions in the near term and the long-term outlook of our market expansion opportunities in 2018 are very encouraging. The fundamental core elements of the business are trending in the right direction.
As previously reported, we ceased operations at our facility in Tiberias, Israel and recorded a $0.9 million (CAD) restructure provision and an impairment loss in Q2 relating to the closure. The Galtronics Israel assets have been transferred to other locations within the group. As a result of the closure, R&D expenses decreased in Q3, however, we remain committed to investing in R&D and we spent another $0.48 million (CAD) on Base Station Antenna ("BSA") development during the 3rd quarter. We anticipate quarter-over-quarter spending to increase in Q4 as we continue to increase headcount of our internal engineering team in Ottawa, Canada.
We remain optimistic that we will deliver our first BSA product to market in 2018. During the quarter, new sales and engineering personnel joined the group in order to add BSA knowledge and skills to our DAS, Small Cell and BSA sales team.
The networking product line had some softness in Q1 that recovered to some degree in Q2. In Q3, revenue increased 16% over Q2 as delayed programs began shipping and we are expecting this momentum to continue in the fourth quarter as new platforms begin ramping up.
Asia Pacific's outlook remains stable with consistent revenues from existing customers combined with continued efforts to identify new opportunities to further reduce our reliance on a major customer. Revenue in Q3 was positively impacted by a successful product launch of a major Asia Pacific customer. Revenue in Q4 will continue to benefit from the product launch but to a lesser extent than in Q3.
Cost reduction and rationalization efforts will continue for the remainder of 2017 in an effort to maintain the margin gains we have achieved during the first half of the year. Operational cost control will continue to be a key focus. We remain committed to investing in new product development while at the same time controlling spending, optimizing manufacturing efficiencies and managing liquidity closely.
CONFERENCE CALL
Baylin will hold a conference call on November 2nd, 2017, at 8:00 a.m. (ET) to discuss its 3rd quarter 2017 financial results. The call will be hosted by Randy Dewey, President and Chief Executive Officer, and Michael Wolfe, Chief Financial Officer. All interested parties are invited to participate.
DATE:                           November 2nd, 2017

TIME:                            8:00 a.m. (ET)

DIAL IN NUMBER:         888-231-8191   647-427-7450

CONFERENCE ID#:       54273805

WEBCAST DETAILS:

http://event.on24.com/r.htm?e=1349694&s=1&k=8173A912A71EFDBCFFADD176DD871244
FORWARD-LOOKING STATEMENTS
Certain statements in this Press Release constitute "forward-looking" statements that involve known and unknown risks, uncertainties and other factors which may cause the actual results, performance, objectives or achievements of the Company, or industry results, to be materially different from any future results, performance, objectives or achievements expressed or implied by such forward looking statements. The forward-looking statements in this Press Release include, but are not limited to, statements regarding the Company's expected product pipeline, plans to expand the Company's business into new markets, the Company's ability to achieve organizational efficiencies, and other statements regarding the Company's plans and expectations in 2017 and 2018. These statements reflect our current views regarding future events and operating performance and are based on information currently available to us, and speak only as of the date of this Press Release. These forward-looking statements involve a number of risks, uncertainties and assumptions and should not be read as guarantees of future performance or results, and will not necessarily be accurate indications of whether or not such performance or results will be achieved. Those assumptions and risks include, but are not limited to, the Company's ability to successfully allocate capital as needed and to develop new products, as well as the fact that our results of operations and business outlook are subject to significant risk, volatility and uncertainty. Many factors could cause our actual results, performance or achievements to be materially different from any future results, performance or achievements that may be expressed or implied by such forward-looking statements, including the factors identified in the "Risk Factors" section of the Company's Annual Information Form dated March 9, 2017. Should one or more of these risks or uncertainties materialize, or should assumptions underlying the forward-looking statements prove incorrect, actual results may vary materially from those described in this Press Release as intended, planned, anticipated, believed, estimated or expected. Unless required by applicable securities law, we do not intend and do not assume any obligation to update these forward-looking statements.
NON-GAAP MEASURES
This press release includes a number of measures that are not prescribed by Canadian generally accepted accounting principles ("GAAP") and as such may not be comparable to similar measures presented by other companies. We believe these measures are commonly employed to measure performance in our industry and are used by analysts, investors, lenders and interested parties to evaluate financial performance and our ability to incur and service debt to support our business activities. The measures we use are specifically defined (See Non-GAAP Measures on page 2 of the MD&A).
While we believe that non-GAAP measures are helpful supplemental information, they should not be considered in isolation as an alternative to net income, cash flows generated by operating, investing or financing activities, or other financial statement data presented in accordance with GAAP.
ABOUT BAYLIN
Baylin (TSX: BYL) is a leading global technology company with over 39 years of experience in designing, producing and supplying innovative antennas. We strive to meet our customers' needs by being their trusted partner from initial design to production with an extensive portfolio of custom engineered solutions and leading edge off-the-shelf antenna products.
SOURCE Baylin Technologies Inc.
For further information please contact Investor relations: investor.relations@baylintech.com